What NomadPower users say
Moving towards sustainable road transport together!
Silent and sustainable pharma transportation
International transport company VTS Transport from Boxmeer (NL) has chosen NomadPower as its partner for sustainable cooling during breaks and overnight stays.
VTS Transport has a young fleet of trucks with modern EURO 6 engines for minimal environmental impact. Electric cooling via NomadPower helps to further reduce emissions and give driver a better night's sleep.
NomadPower also has this driver's approval!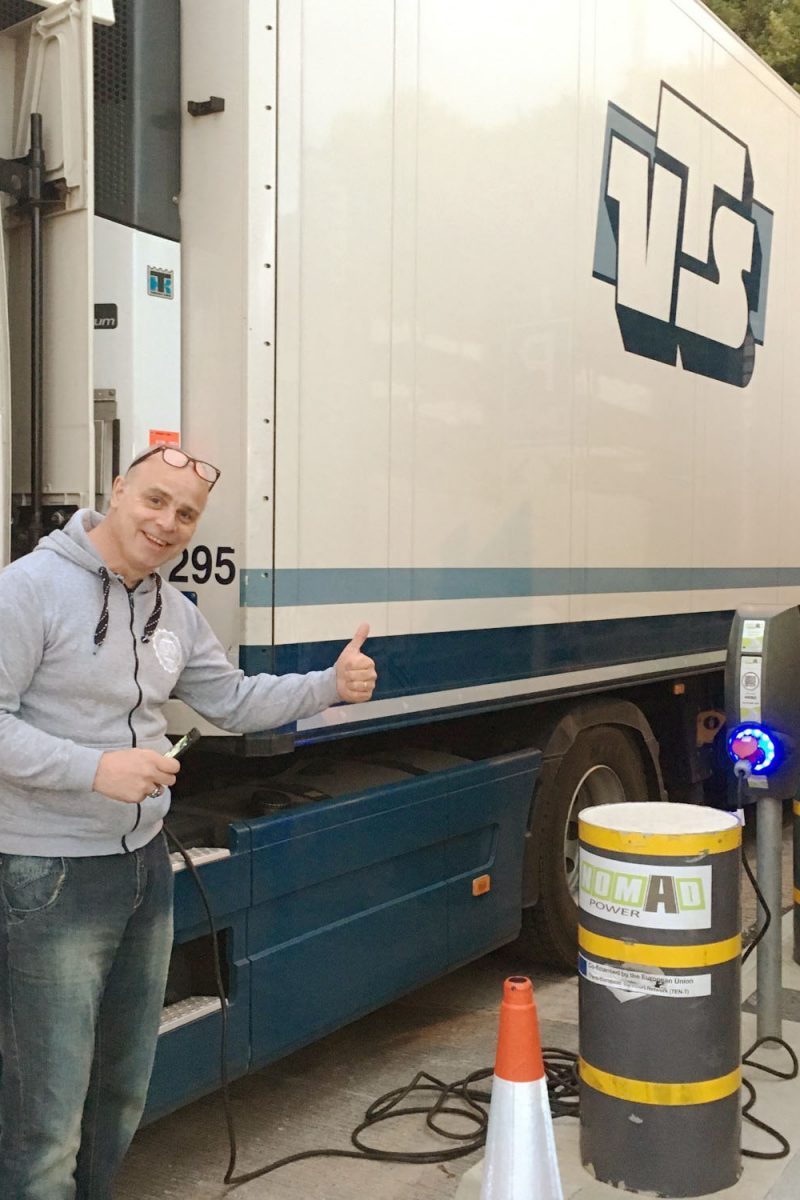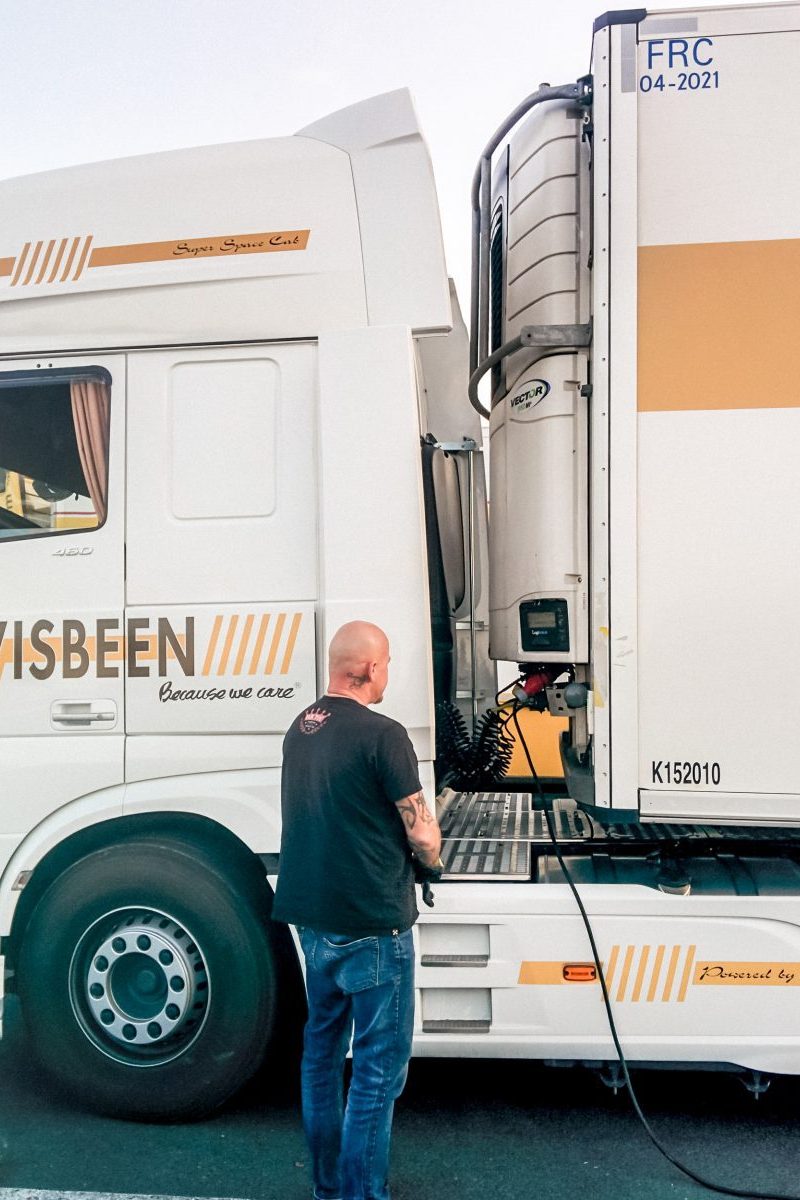 Visbeen from Nieuwe-Tonge (NL) is a first-time user.
It is already quite difficult for drivers to find a parking space. When they finally find one, they arrive with a roaring generator, which causes a lot of irritation for other drivers. By using NomadPower the noise goes down considerably,' says logistics manager Joost Visbeen.
'Another big advantage is that it is immediately clear what the unit has consumed and we link this back to our TMS system'.
NomadPower provides power not only to keep loads cool, but also to heat them.
Van den Bosch Transport uses NomadPower at various locations in Belgium, the Netherlands, Germany and England to keep liquids actually liquid by heating them. In this way, thanks to NomadPower, chocolate is kept at the right temperature.
Connect and Keep Warm!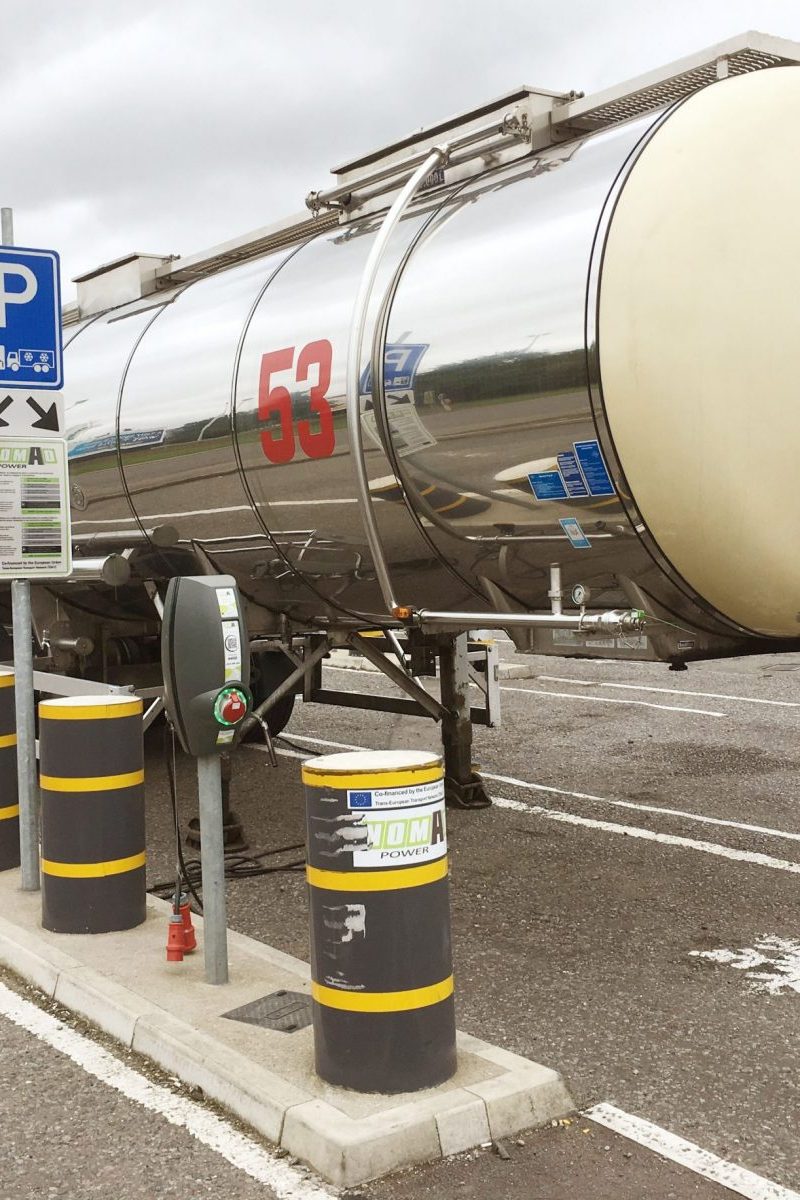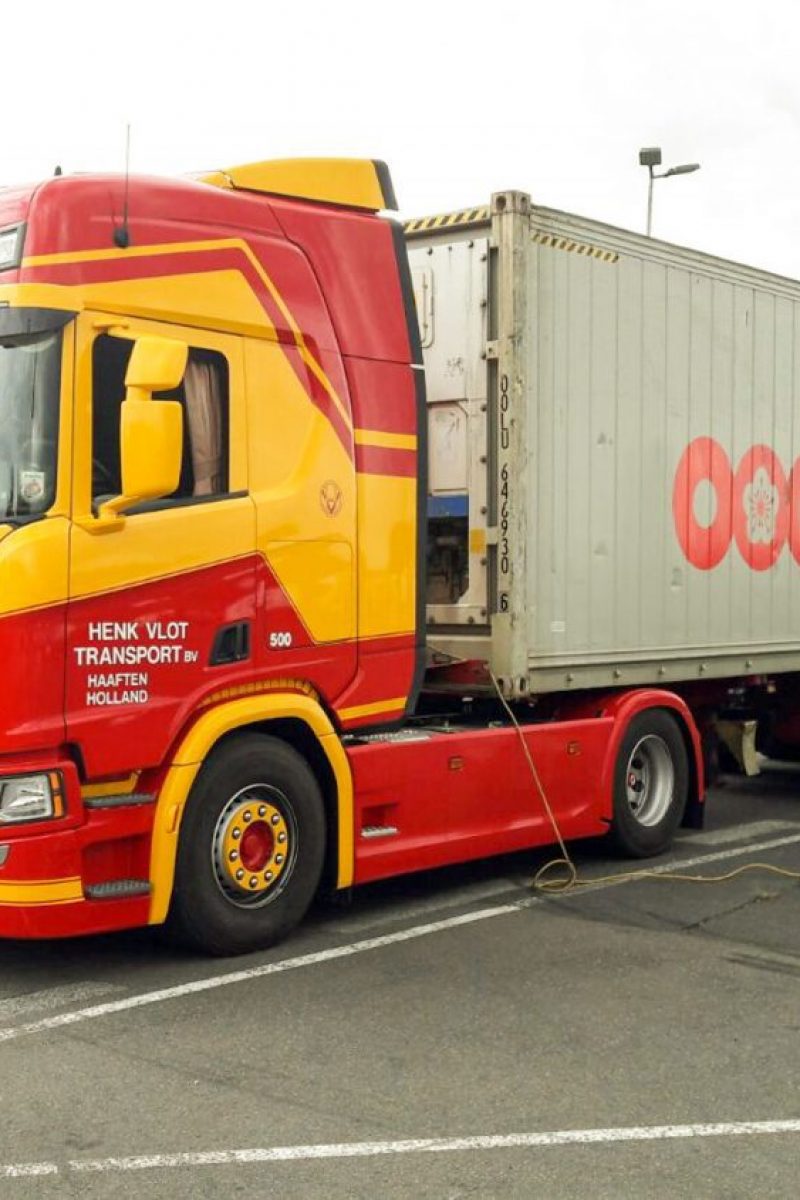 Transport of refrigerated containers is a specialized field within the transport sector. Henk Vlot Transport from Haalten (NL) is one of these well-known specialists.
Refrigerated containers can be easily connected to NomadPower with a '4-pin to 5-pin' adapter. Transport planner Arnold Visser explains:
'Our cooling units on the containers use a 4-pin plug, this is the standard for this type of container, however most European three phase plugs are 5-pin. This is easily solved by using an adapter to go from 4-pin to a 5-pin connection. NomadPower helped us with this by purchasing the right adapters at a good price. We now use NomadPower often during our trips in Germany'.
"As I stand with my smartphone and cable, I can already see two drivers looking at me. The moment I plug in the cable, they ask what this is. This is NomadPower." said Johnny Brummans, truck driver at H.Essers Transport. He is a user and a long-time fan of NomadPower.
"It's a super nice idea. Power your truck's cooling system while you sleep. You plug in and the electric motor runs. All you hear now is a slight humming sound. A difference of night and day. At least now I can sleep peacefully. Before, the refrigeration ran on a diesel engine and there was a lot of noise involved. In advance, I check on the app to see which power poles are free and plan my breaks there. Upon arrival, I plug in the cable and start via the NomadPower app. Then I have nothing to worry about. The bill goes automatically to my employer where one has an overview through the account created."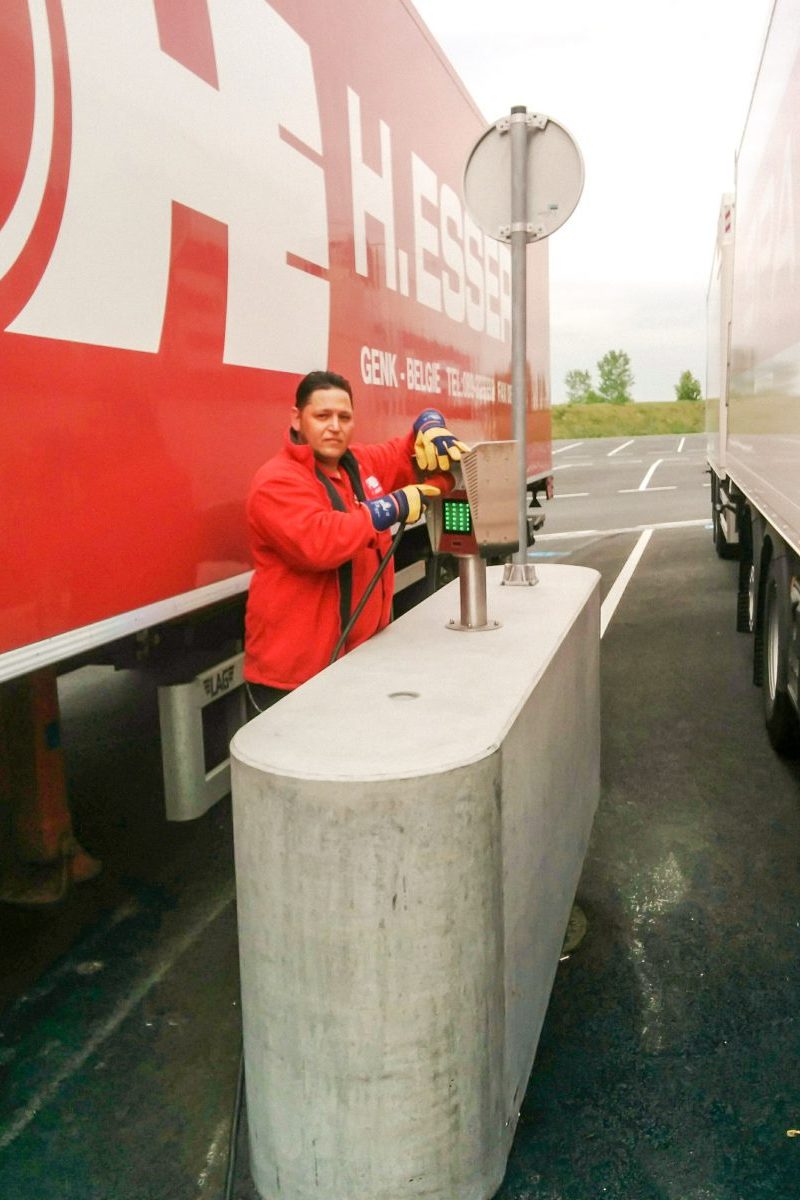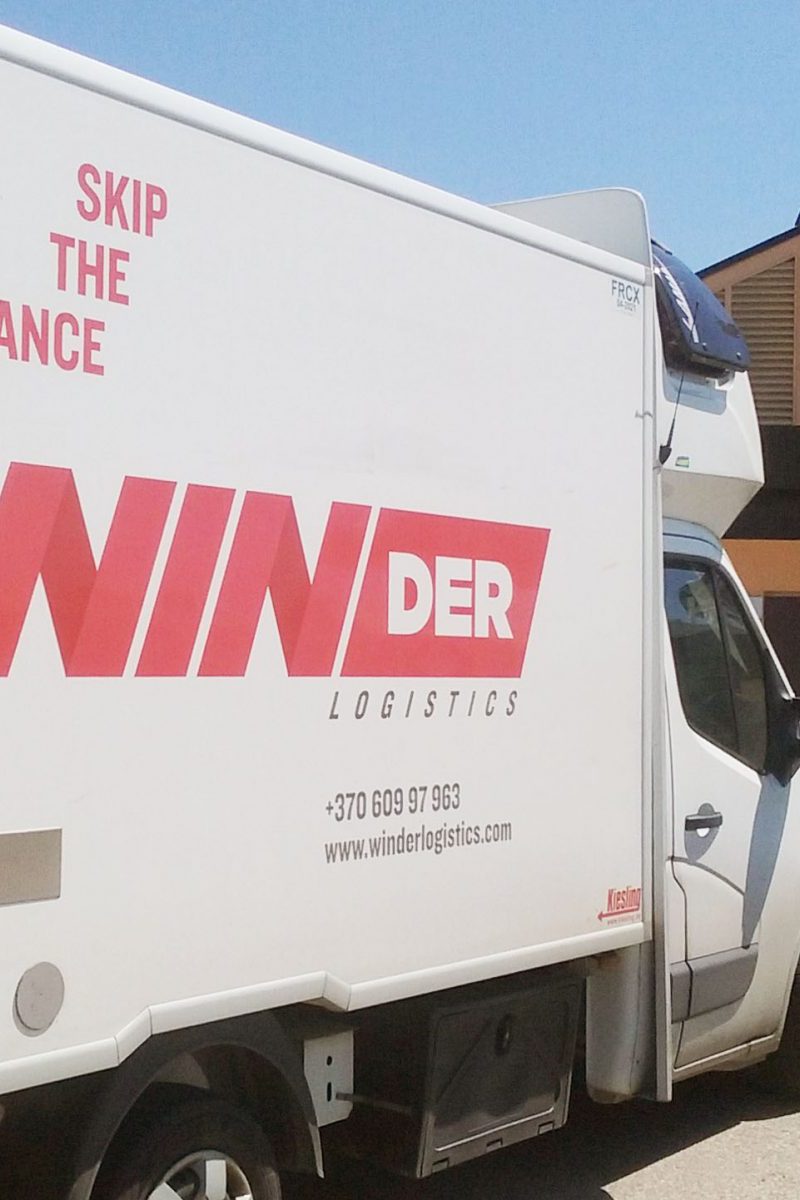 Most NomadPower customers use the standard red 5-pin 32A plug for power to the refrigeration unit. But what if you're transporting refrigerated containers that use a 4-pin connection, or you're running smaller trucks with cooling on 220V?
Winder Logistics from Lithuania is a good example. Manager Paulius Eiva contacted us about this matter;
'We would like to use electricity for cooling our pharma transport. Our modern fleet of small trucks is specifically designed to deliver quickly and flexibly to our customers in Europe, however the chiller on our refrigeration units run on 220V. Fortunately, NomadPower was able to advise us and arrange quick and inexpensive delivery of the right adapters. Our drivers now always plug in at NomadPower!'
High-voltage power for busses
With festival season in full swing, these are busy times for Rockstar Logistics from Ireland;
'We operate throughout Europe and drive from festival to festival with our sleeper buses' said Gareth Rees one of the drivers. 'Access to three phase power is often not a problem at the festivals themselves, however once we are on the road it is often difficult to find a suitable parking space with access to power. NomadPower provides our these facilities. We save a lot of time and money this way. A top idea!